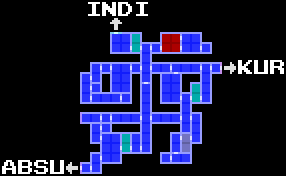 Zi is the third area that Trace must travel through in order to revive the Rusalki. It is a diverse underground area, including industrialized sections with steam vents and other machinery, as well as more organic cavernous areas. It has a prison, a Power Filter with connected Venous Filtration, Venous Maintenance areas and an Arterial Shaft. Trace will meet Veruska here in the bottom right corner.
There is also a hallucination of another Trace in the tall room to the left of Kur's entrance room. This Trace is seen at the top going into the left door for only a few frames.
Enemies
[
]
Boss
[
]
Standard
[
]
Parasitic Shrub (5), Scorpiant (12), Yellow Sea Sponge (9), Orb Wall (5), Tunnel Hopper (9), Green Roller (12), Magenta Roller (9), Hopping Spider (6), Gray Ghoul (19)
Other
[
]
Bubbles, Drag Weed, Steam causes 30 damage when touched.
Items
[
]
Upgrades
[
]
Weapons
[
]
Power-Ups
[
]
Notes
[
]
Possible Secret World Entrances
[
]
14 - Easy Difficulty
Connected Zones
[
]
Music
[
]
"Vital Tide"