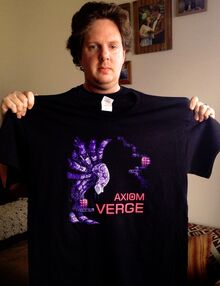 Axiom Verge was created, developed, stylized and composed by Thomas (Tom) Happ. He worked during the day as a developer for Petroglyph Games but worked on his own game during his off hours.
Sony contacted Tom Happ and offered funding through one of their programs (not really?), allowing Tom to work on the game full time. Five years later, the project is finished and ready for the public (he worked on it a lot during his regular job while making games for EA and others through Petroglyph). Thanks to the exposure from Sony, the game has already grown in popularity and was GameSpot's Best of E3 in 2014. (Really, it's actually just a good game, tho the exposure was a boon?) Here's the best interview This Wikia Contributor could find with him:
International Business Times: Thomas Happ on Axiom Verge
Another interview on the sources of inspiration for Axiom Verge:
Game Dev Recipes - Axiom Verge Via USGamer
This page is a stub. It needs content. Please help us by filling in what you know!
His homepage is located at http://www.thomashapp.com/
His Twitter is https://twitter.com/AxiomVerge
Community content is available under
CC-BY-SA
unless otherwise noted.