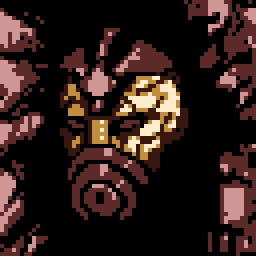 Description
Edit
Gir-Tab is a biomechanoid Variant of Athetos and the game's 4th sequential boss. Its appearance is that of a large, scorpion-like creature with a flamethrower for a tail, a laser cannon replacing each claw, and a third cannon on its back.
Athetos created Gir-Tab by first cloning himself with one of Sudra's Rebirth Chambers, and then making biomechanoid modifications to the clone.
Gir-Tab is the most verbally capable Variant, and is notable for having helped Athetos decipher the Sudran language for use with the Passcode Tool.
Gir-Tab Has 1,800 Health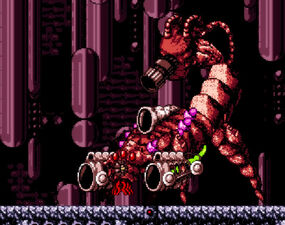 Trace confronts Gir-Tab in the middle-right portion of Kur.
Gir-Tab will fire volleys of energy projectiles from its claw and back cannons. From time-to-time, it will also leap at the player, getting in range to attack with its flamethrower tail. Gir-Tab's weak underbelly should be the primary target for Trace. While his cyclops eye is also a weak-point, Gir-Tab keeps it closed and invulnerable most of the time.
After defeating Gir-Tab, the player will be able to enter the next room containing Katrahaska and will also be able to turn on the Repair Drones.
Strategies
Edit
Gir-Tab is perhaps the most tedious boss fight in Axiom Verge, due to the fact that you have to play defense much more than you can play offense. Learn Gir-Tab's attack patterns, and he becomes much simpler. However keep pace because he will speed up his attacks when near death.
Etymology
Edit
Girtab is the Sumerian word for "scorpion" and is the traditional name for the star constellation Kappa Scorpii.[1]
Additional Images
Edit
References
Edit
↑ Taken from this post on Reddit. See also Wikipedia article for Kappa Scorpii.
Community content is available under
CC-BY-SA
unless otherwise noted.