Some ocean/water theme is conspicuously recurring.

1) The Kuliltu says "kuliltu battled in the sea above",
and "leaving them to spill upon the plains" could mean "fell" as well as "washed ashore".
2) The Breach speaks of "ocean" and "currents", yet one needs an "elevator" to get there.
(by the way the final boss battle is there)
3) Anonymous Quote says "the sky ocean was torn asunder" and "reparation of the sea and the stars".

So... is there really an ocean up there ?
Some upper levels do show things hanging from way above in the background.
Or is the apparent oxymoron just a name for upper atmosphere or outer space ?
Sentient aquatic people would do that, speaking of which...

4) There is a fair amount of shore. (mainly in Indi)
5) The background of pre-boss rooms looks like a humanoid starfish to me :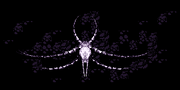 6) The Rusalki/Kuliltu seem to have aquatic bodies.
(Squid, lobster and serpent in the hangar background, fin-like motion for the few others)
And they could well have been made by way past Sudrans.

So...
Were Sudran aquatic people ? (at least in a distant past)
But the bones and ghouls look rather human...
Am I missing something ?
Or was this just some artistic wandering stitched together at the expense of consistency ?